Stella Lilith - Postać Specjalna o dobrym charakterze.
Pracuje, jako kwiaciarka w różnych miejscach w mieście - nie w sklepie, ale na ulicy.
Charakter
Edit
Przyjazna, pomocna i otwarta na ludzi. Pojawia się zawsze tam gdzie jej potrzeba, tryska radością, pogodą ducha i dobrymi radami. W niektórych częściach miasta jest niczym legenda, bo każdy kto przyjdzie do niej po kwiaty, odchodzi z radosnym uśmiechem. 
Krótki opis
Edit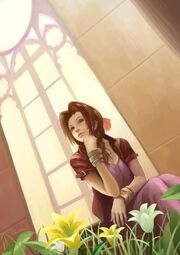 Pracuje pod przykrywką. Tak na prawdę jest prywatnym detektywem, który działa na własną rękę. Ma swoją bazę danych. Sprzedaje kwiaty w różnych miejscach i zawsze coś zobaczy/usłyszy. Często jest dla Mścicieli Informatorem, a Przestępcom psuje szyki, chociaż nikt nie wie, że tajemniczy Mr Flo to właśnie ona.
Ad blocker interference detected!
Wikia is a free-to-use site that makes money from advertising. We have a modified experience for viewers using ad blockers

Wikia is not accessible if you've made further modifications. Remove the custom ad blocker rule(s) and the page will load as expected.